Deerland Park
TIME : 2016/2/22 11:56:47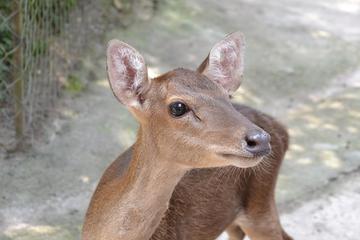 Deerland Park
Encompassing a 10-acre (4-hectare) plot of forest in the Krau Forest Reserve of Pahang, Deerland Park is home to some 30 Indonesian deer (Cervus timorences), as well as a couple other species of deer, sun bears, monkeys, snakes, peacocks and ostriches.
Set up like a petting zoo, the deer enjoy a large enclosure where visitors can interact with them at close range, feeding them and pet them. A wooden walkway leads up to an observation platform where visitors can watch the deer from above.
For those interested in the natural flora of the region, Deerland Park leads medicinal herb treks into the jungle, where about 40 species of herbs grow. Other activities include blowpipe lessons, bird-watching seminars, cooking classes, fishing and night walking.
Practical Info
Deerland Park is located not far from the Elephant Sanctuary at Bukit Gandah, so consider combining both attractions into a single trip.
You Might Also Like