Eagle Square (Dataran Lang)
TIME : 2016/2/22 11:56:48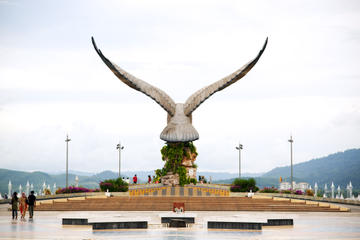 Eagle Square (Dataran Lang)
Dataran Lang, or Eagle Square in English, is a square on Langkawi near the port where ferries sail in and out. It is the first sight visitors to this Malaysian island will see when they arrive by boat. In the square is a giant statue of an eagle poised to take flight. The eagle is almost 40 feet tall. The reddish-brown eagle was built as a symbol of the island since, according to folklore, Langkawi's name came from two Malay words, Helang which means "eagle" and Kawi which means "reddish brown." It is one of Langkawi's most recognizable sights. 
Eagle Square is about 19 acres large and has covered terraces, small ponds, fountains, footbridges, shops, and cafes. The square also has covered pavilions where events are held. Nearby you'll also find several duty-free shops. The square offers gorgeous views of Kuah Bay that leads into the sea and the surrounding mountains. From the square, you can also watch the ferries crossing the bay. After dark, the square and the eagle are illuminated with lights. 
Practical Info
Eagle Square is located in Kuah Town near the Kuah Jetty on the southeastern corner of Langkawi Island. It is open 24 hours and admission is free. It is best to come in the evening or early in the morning to avoid the most intense heat.