Klias Wetlands
TIME : 2016/2/22 11:56:54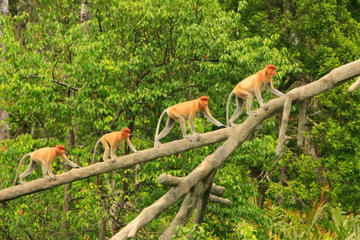 Klias Wetlands
The wetlands of the Klias Peninsula are known for containing lush mangrove forests full of unique wildlife. There are dozens of tropical bird species, as well as monitor lizards, Proboscis monkeys, long tail macaques and silver Languor monkeys, all endemic to Borneo. A visit to the wetlands is particularly interesting at dusk, when the tree-dwelling monkeys become active for feeding.
After sunset, it possible to see fireflies dotting the sky with their light. Water buffalo, tree snakes, and eagles are a few of the other possible wildlife sightings, though the bizarre behavior and appearance of the Proboscis monkey is what most come to see. There may also be crocodiles lurking along the river!
It's a chance to be immersed in nature and see many of the unique species of Sabah in their natural environment. Leisurely boat cruises on the river are the best way to see the area.
Practical Info
The Klias Wetlands are located about 120 kilometers south of Kota Kinabalu, Borneo. It is about a two hour journey by car. Wearing mosquito repellent is recommended.
You Might Also Like