Kuching Esplanade
TIME : 2016/2/22 11:56:57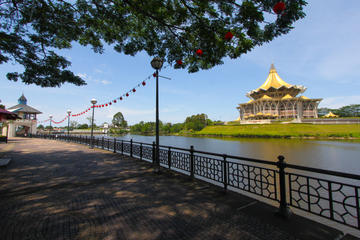 Kuching Esplanade
What was once a worn and weathered trading area in Kuching has been transformed into one of Malaysia's best public spaces. The Kuching Esplanade, also referred to as the Kuching Waterfront, officially opened in 1993 and extends for a little less than a mile (1.3 kilometers) between the Main Bazaar and the Riverside Suites.
Once lined with wharfs and warehouses, this stretch along the south bank of the Sarawak River is now lined with cafes, souvenir shops and food stalls, along with several historic buildings and points of interest, like the Sarawak Steamship Company building and the Chinese Museum. With little road traffic, the area is ideal for strolling, particularly in the evening when the riverside lights blink on. Tiled mosaics along the esplanade depict Malaysian ethnic motifs, while placards offer insight into the area's history.
Practical Info
From the esplanade, visitors can hop on a boat to cross or cruise the Sarawak River, an especially picturesque experience around sunset.