Pulau Singa Besar
TIME : 2016/2/22 11:57:11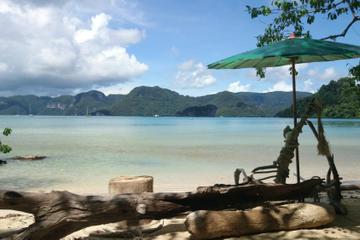 Pulau Singa Besar
Located at the southwest tip of Langkawi, Pulau Singa Besar (meaning "Big Lion Island") is nestled between the two islands of Pulau Beras Basah and Pulau Dayang Bunting. Pulau Singa Besar is home to over 1500 acres of dense rainforest, swaying palm trees, pure white sandy beaches, and some fascinating limestone formations. 
This undeveloped Langkawi island remains refreshingly untouched by humans and as such features no basic amenities or constructions whatsoever. Instead, Pulau Singa Besar is a natural haven for a variety of flora and a range of wildlife, from mouse deer and macaques to monkeys and eagles – the latter of which are a huge attraction on the island come their feeding time.
The gentle, clear waters surrounding Pulau Singa Besar are ideal for swimming and snorkeling, with some unique species of fish and coral making for a fascinating underwater experience. However, many visitors choose to spend their time on Singa Besar simply lazing on the island's soft sandy beaches and gazing out to those craggy limestone formations in the distance.
Practical Info
Those who visit Pulau Singa Besar's shores often do so as part of an island-hopping tour taking in the other islands in the region. Alternatively, if you're traveling as part of a group, you can hire an eight- or 12-person boat from Pulau Langkawi. Visitors should be aware that there are no amenities on Pulau Singa Besar and they should also be careful to take all rubbish with them when they leave the island.
You Might Also Like