Semenggoh Nature Reserve
TIME : 2016/2/22 11:57:13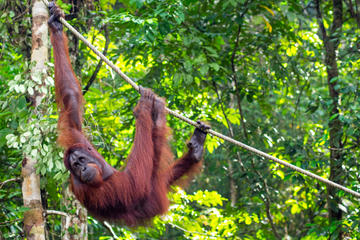 Semenggoh Nature Reserve
There are few places in the world will you find a healthier population of young orangutans than the jungles surrounding the Semenggoh Nature Reserve near Kuching. This thriving population of wild orangutans owes its success to the two-decade-old rehabilitation program at the Semenggoh Wildlife Centre situated within the 2.6-square-mile (6.8-square-kilometer) reserve.
While the program has moved operations to the Matang Wildlife Centre, visitors can still observe some of the program's orangutans, now living semi-wild with their offspring in tow. Since the orangutans are free to roam, there's no guaranteed sightings, but many of them stop by the center regularly for a free meal of fruit, eggs and sometimes the hidden vitamin.
Two trails take visitors through the primary rainforest, where it's sometimes possible to spot rescued gibbons, crocodiles, river terrapins or porcupines.
Practical Info
Plan your visit to the Semenggoh Nature Reserve to coincide with either the morning or afternoon feeding time for the best chances of spotting an orangutan in the wild.
You Might Also Like