Tanjung Rhu Village
TIME : 2016/2/22 11:57:16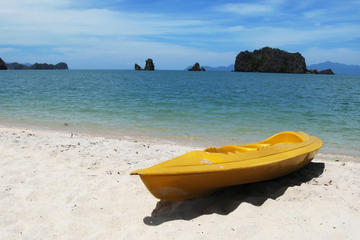 Tanjung Rhu Village
Tanjung Rhu has one of Langkawi's most celebrated shorelines—and for good reason. Flanked by limestone cliffs jutting out into the Andaman Sea, the beach at Tanjung Rhu is breathtakingly attractive; the sand is as soft and white as any Thai island, its waters are crystal-clear and it affords some incredible views across the other Langkawi islands. 
The beach is not the only draw for many visitors to Tanjung Rhu however, with many people heading further inland behind the shoreline and into Tanjung Rhu Village—home to some of Malaysia's most fascinating and diverse wildlife and natural landscape.
Tanjung Rhu Village is a place where visitors can immerse themselves in the beauty of Mother Nature. Monkeys, kingfishers and huge monitor lizards gather to greet visitors along the river banks, while eagles soar overhead. Elsewhere, the village's fish farm restaurant serves up fresh seafood straight from the ocean.
Practical Info
Most visitors explore Tanjung Rhu as part of a day tour, taking in the caves, mangrove forests, and wildlife of the area. If you intend to stay longer though, Tanjung Rhu Resort and the Four Seasons Resort dominate the accommodation options here.
You Might Also Like