Telaga Tujuh Waterfall
TIME : 2016/2/22 11:57:16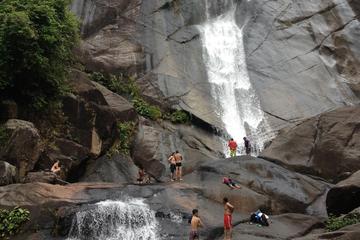 Telaga Tujuh Waterfall
If swimming in tropical waterfalls is your kinda thing then Telaga Tujuh Waterfall will make you very happy indeed. Telaga Tujuh means "place of seven wells" and is so named because of the beautiful pools that have formed as the waterfall cascades down the side of Mount Chingcang. Legend goes that it is where Langkawi's fairies like to swim.
The climb up to the top of the waterfall is steep and takes about 45 minutes, however, if you're not in a strenuous mood then there is the lower area with pools and food stalls and the middle area with a proper waterfall-created pool in which to bathe. The waterfall is surrounded by forest and you may meet the monkeys who live by the waterfall, there are also hornbills that wander nearby.
Make sure you take plenty of towels and something dry to change into as the water is refreshingly cold.
Practical Info
The waterfall is a 20-minute walk from the top of the Langkawi Cable Car. As there is no public transport to the waterfall you will either have to catch a taxi or hire a car or motorbike.
You Might Also Like