Boudhanath Stupa (Bodhnath Stupa)
TIME : 2016/2/22 12:06:38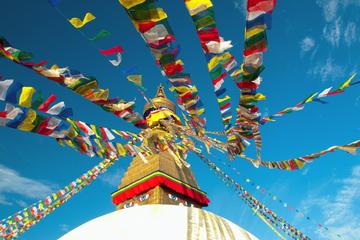 Boudhanath Stupa (Bodhnath Stupa)
Experts disagree on just how old Bodhnath Stupa is, but this site of Buddhist worship is undeniably one of the largest stupas in the world and the most popular site in Nepal. The oldest structure likely dates back to the fifth century AD, and local legend tells of a woman who tricked the king at the time into giving her a large plot of land to build a shrine to the Buddha.
It's unclear whether the Bodhnath Stupa houses a holy Buddhist relic as most such stupas do, but locals will tell you it has a small piece of bone that the Buddha once carried. Whatever the case my be, pilgrims still come here to walk clockwise around the stupa and spin the dozens of prayer wheels lining the brick wall that surrounds the structure.
You can enter the stupa from the north side, and once inside, you'll see intricately painted mandala ceilings and a large golden Buddha statue with a small shrine to the Dalai Lama at its base. While you're in the area, consider stopping in for lunch or dinner at one of the area restaurants specializing in Tibetan cuisine.
Please note that there has been significant damage to the Boudhanath Stupa due to the earthquakes and subsequent aftershocks in Nepal in late April and early May 2015. Authorities have said they will do all they can to restore historic and cultural sites in Nepal and are assessing the extent of damages.
You Might Also Like