Pashupatinath
TIME : 2016/2/22 12:06:42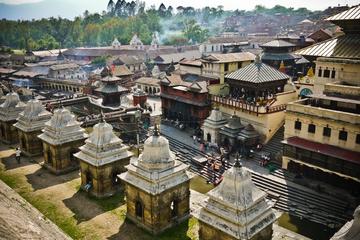 Pashupatinath
Every day, thousands of Hindu pilgrims from around the globe make their way to Pashupatinath Temple to worship the god Shiva. The temple sits on the banks of the Bagmati River just outside of Kathmandu and is not just architecturally beautiful, it's also one of the oldest and most important Shaivite temples in the world.
The complex dates back to around 400 AD, but the current temple was rebuilt during the 17th century. According to local legends, the site of the temple was where the god Shiva hid from the rest of the gods by taking the form of an antelope. When the gods caught him, they broke off one of his horns which fell to the ground on the spot where the temple currently stands. While non-Hindus aren't always allowed inside the main temple, those who do enter can see another phallic symbol of Shiva worshiped within.
A visit to Pashupatinath may also present the opportunity to witness a fascination -- though certainly somber -- cultural ceremony. Many Hindus bring their dead to be cremated on the steps leading down to the river just outside the temple. Often you'll see the covered bodies paraded through the temple grounds, past hordes of monkeys and sadhus, toward the river.
You Might Also Like