Gwangjang Market
TIME : 2016/2/22 14:02:25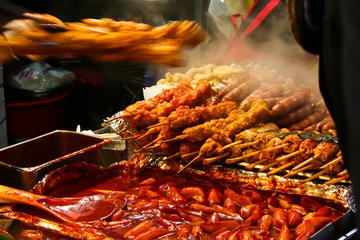 Gwangjang Market
Gwangjang Market, Seoul's first and oldest covered market, was originally the place to come to buy traditional Korean clothing items, like hanbok. While the market still specializes in textiles, it's become one of Seoul's biggest street food hot spots, where foodies can sample nearly any type of Korean cuisine under the same roof.
In the food court area, dozens of vendors pack tightly together, busily preparing a quick meal for shoppers passing through. The variety is astounding, but
bibimbap
(a Korean rice dish with ground meat and vegetables), dumplings and savory mung bean pancakes are always safe and tasty bets.
If you happen to be in the market for a tailored silk dress or set of high quality bed sheets, head upstairs to the wholesale shops where you can get nearly anything custom made at a fraction of the cost you'd pay in some of Seoul's high end shopping districts. Most of the shops close down on Sundays, but the food court remains open.
You Might Also Like