Boasting wild, uncharted jungles and karst-studded seas, Vietnam's northern coast captivates travelers with its breathtaking scenery. Whether on water or land, the otherworldly landscapes of the region provide a stunning backdrop for adventure.
Jagged, rocky islands pepper the seascape, along with hundreds of weather-worn grottoes, making this one of the most photogenic places in Vietnam.Ha Long Bay (literally, Bay of the Descending Dragon) is the country's most famous attraction, entrancing millions of visitors each year to tour its islands and caves. The placid waters of the bay are awash with luxury cruise liners and modest wooden junk boats that spill over into Ha Long's smaller and less crowded neighbors, Lan Ha Bay and Bai Tu Long Bay. Jagged, rocky islands pepper the seascape, along with hundreds of weather-worn grottoes, making this one of the most photogenic places in Vietnam.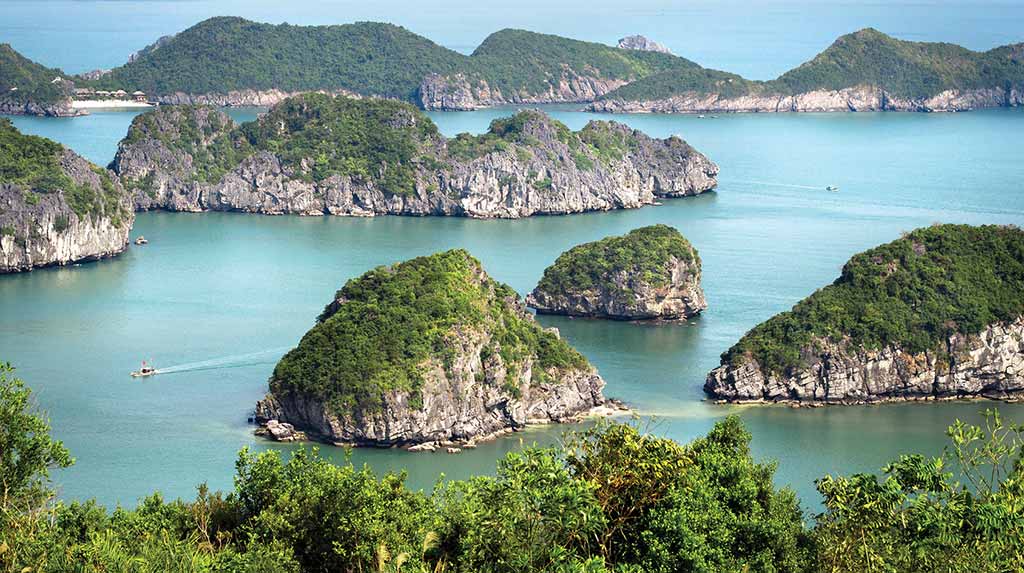 Blanketed in dense green jungle and razor-sharp limestone peaks, the majority of Cat Ba, Ha Long's largest island, remains untouched, rounding out the western edge of the bay. Here you can lounge on a quiet beach or trek through the jungle in a national park, looking out for the island's varied wildlife.
Where Ha Long is often overrun with tourist junk boats and foreign travelers, the smaller, quieter Lan Ha Bay, located off Cat Ba Island's eastern shores, remains wonderfully unencumbered. The area's trademark limestone karsts rise dramatically out of the sea in sharp, striking ridges and rippled rock faces, their bases worn away by erosion. Lush jungle foliage sprouts from the porous rocks, seemingly growing out of nothing, and if you're lucky you may catch a monkey or two swinging between the trees.
Farther south near Ninh Binh are the mesmerizing karsts of Tam Coc and Trang An, affectionately nicknamed "Ha Long Bay on Land." This region is growing more popular with tourists, and functions as a great base from which to explore northern Vietnam.
Planning Your Time
A visit to Ha Long Bay can take as little as two days or as long as four, depending upon your enthusiasm for on-the-water adventure. Most travelers—particularly those on a shorter schedule—opt for Ha Long Bay or Ninh Binh, as Ninh Binh also goes by the nickname "Ha Long Bay on Land."
In Ha Long Bay, how you travel plays a role in the amount of time you'll need. For a day cruise on the bay, devote two days of travel to arrive in Ha Long city, book a cruise, go on the cruise, and return to Hanoi. For an overnight cruise, set aside 2-3 days, depending on the cruise. For a stay on Cat Ba Island, give yourself a minimum of three days.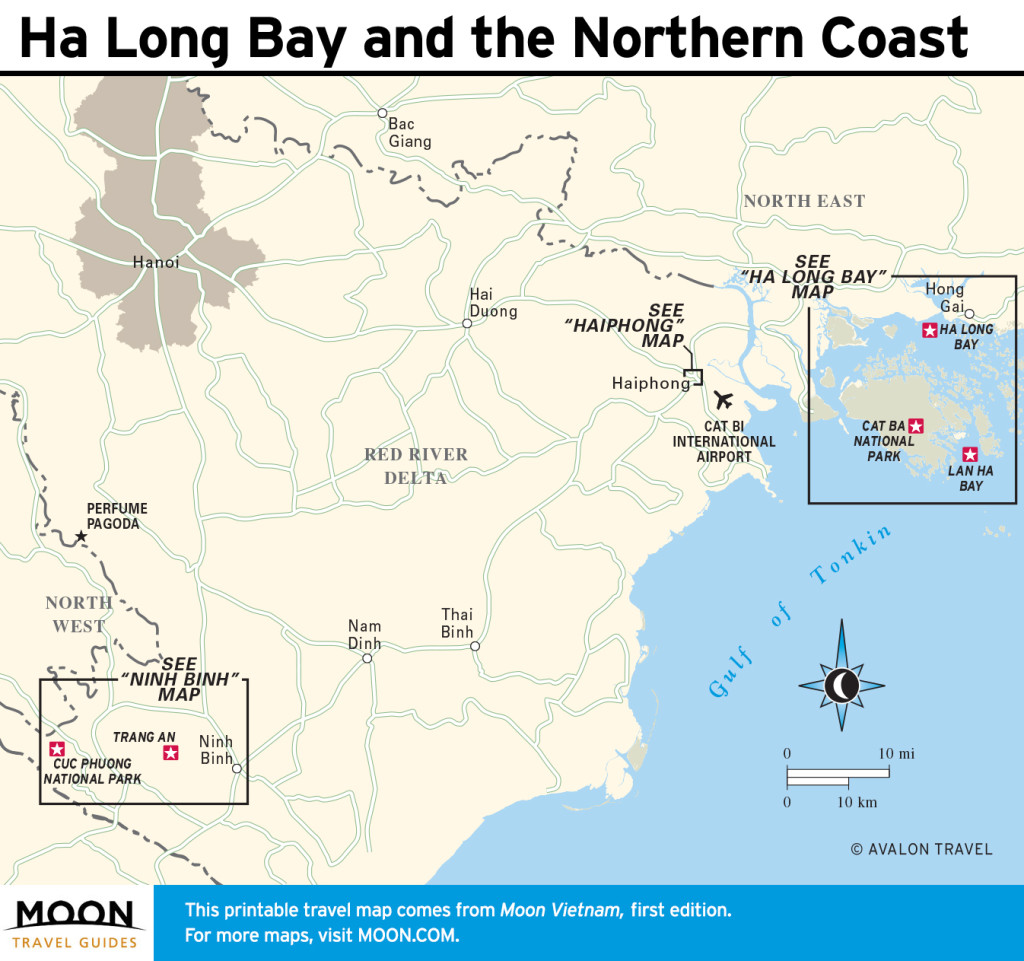 A visit to Ninh Binh requires just one or two nights, with an extra day if you're keen to see the langurs at Cuc Phuong National Park. Cuc Phuong can also be reached as a day trip from Hanoi.
The hottest months, between June and August, are an absolute madhouse, as domestic holidaymakers flock here in droves and prices skyrocket. From September to December, things quiet down considerably, while the weather holds steady. Traveling from late December to late February promises a slightly more peaceful atmosphere, though hundreds of Chinese tourists still skip over the border for a quick visit and weekenders arrive from Hanoi. During this time, inclement weather can often sideline boat cruises in Ha Long. Your best bet is to visit between September and early December, when the crowds are thinning out and the weather is calm enough to allow boats onto the bay.
---
Excerpted from the First Edition of Moon Vietnam.