Hainan Assembly Hall
TIME : 2016/2/22 18:05:04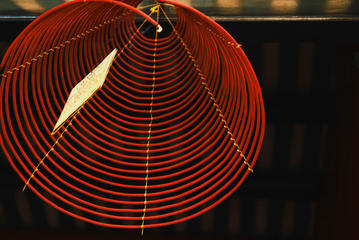 Hainan Assembly Hall
In 1851, a renegade general of King Tu Duc's Vietnamese empire plundered the ships of Chinese merchant sailors off the shores of Hoi An, killing over 100 men. In order to protect his back, the rogue general claimed the merchants were actually pirates -- it's even rumored that he ordered the merchants' boats be painted black so his case would be strengthened. When the truth came out that innocents were killed rather than pirates, as an apology King Tu Duc granted the Hainan Chinese community of Hoi An the money to build an assembly hall in memory of the merchants.
Built in 1875 near the Thu Bon River, Hainan is built in the typical style of Chinese assembly halls, with grand entry gates and an elegant courtyard full of ornamental trees. The main hall is dedicated to the merchants, and intricate dais contain plaques in their memory. A lacquered board at the entry hall also tells the innocent merchants' story.
Today, Hainan Assembly Hall continues to be a place where Chinese immigrants from the Hainan region gather for meetings and celebrations, passing on their traditions to the next generations born far from their ancestral home.
Practical Info
Hainan Assembly Hall is open from 8am - 5pm, on 10 Tran Phu street. Admission is by old town ticket (120,000 VND, valid for 10 days).