The most important plaza in Habana Vieja, and the oldest, handsome Arms Square was laid out in 1519 and named Plaza de Iglesia for a church that was demolished in 1741 after an English warship, the ill-named HMS Invincible, was struck by lightning and exploded, sending its main mast sailing down on the church. Later, Plaza de Armas evolved to become the settlement's administrative center, when military parades and musical concerts were held and the gentry would take their evening promenade. The plaza is ringed by stalls selling tatterdemalion antiquarian books.
At its heart, verdant Parque Céspedes is shaded by palms and tall kapok (ceiba) trees that surround a white marble statue of Manuel de Céspedes, hero of the Ten Years War.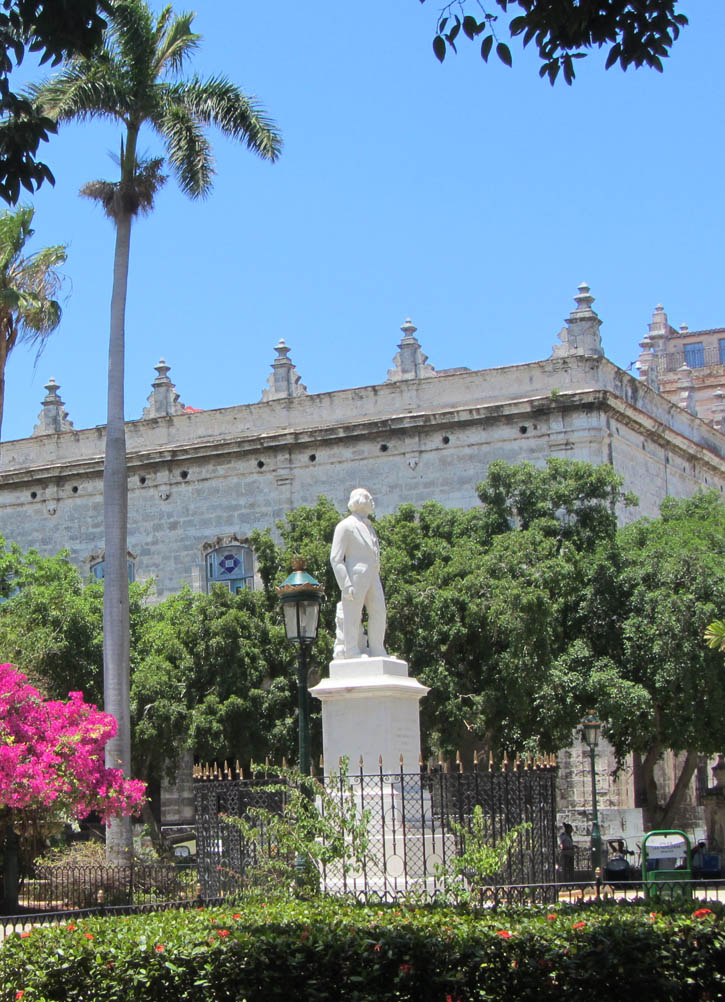 Palacio de los Capitanes Generales
The somber yet stately Palacio de los Capitanes Generales (Palace of the Captains-Generals) was completed in 1791 and became home to 65 governors of Cuba between 1791 and 1898. After that, it was the U.S. governor's residence, the early seat of the Cuban government (1902-1920), and Havana's city hall (1920-1967).
The three-story structure surrounds a courtyard that contains a statue of Christopher Columbus by Italian sculptor Cucchiari.The palace is fronted by a loggia supported by Ionic columns and by "cobblewood," laid instead of stone to soften the noise of carriages and thereby lessen the disturbance of the governor's sleep. To the north end of the loggia is a marble
statue of Fernando VII,
holding a scroll of parchment that from the side appears jauntily cocked and is the butt of ribald jokes among locals.
The three-story structure surrounds a courtyard that contains a statue of Christopher Columbus by Italian sculptor Cucchiari. Arched colonnades rise on all sides. In the southeast corner, a hole containing the coffin of a nobleman is one of several graves from the old Cementerio de Espada.
Today, the palace houses the Museo de la Ciudad de la Habana (City of Havana Museum, Tacón #1, e/ Obispo y O'Reilly, tel. 07/861-5001, Tues.-Sun. 9:30am-5:30pm, last entry at 4:30pm, entrance CUC3, cameras CUC5, guide CUC5). The stairs lead up to palatially furnished rooms. The Salón del Trono (Throne Room), made for the king of Spain but never used, is of breathtaking splendor. The museum also features the Salón de las Banderas (Hall of Flags), with magnificent artwork that includes The Death of Antonio Maceo by Menocal, plus exquisite collections illustrating the story of the city's (and Cuba's) development and the 19th-century struggles for independence. A hour-long audio guide (Spanish only) is available Tuesdays; you're also given a map.
Museo Nacional de Historia Natural
On the south side of the plaza, the Museo Nacional de Historia Natural (Natural History Museum, Obispo #61, e/ Oficios y Baratillo, tel. 07/863-9361, Tues. 1:30pm-5pm, Wed.-Sun. 10am-5:30pm, CUC3) covers evolution in a well-conceived display. The museum houses collections of Cuban flora and fauna—many in clever reproductions of their natural environments—plus stuffed tigers, apes, and other beasts from around the world. Children will appreciate the interactive displays.
Immediately east, the Biblioteca Provincial de la Habana (Havana Provincial Library, tel. 07/862-9035, Mon.-Fri. 8:15am-7pm, Sat. 8:15am-4:30pm, Sun. 8:15am-1pm) once served as the U.S. Embassy.
Depósito del Automóvil
The Depósito del Automóvil (Depository of Automobiles, Oficios #13, tel. 07/863-9942, Tues.-Sat. 9:30am-5pm, Sun. 9am-1pm, entrance CUC1:50, cameras CUC2, videos CUC10), 50 meters south of Plaza de Armas, includes an eclectic range of 30 antique automobiles—from a 1905 Cadillac to singer Benny More's 1953 MGA and revolutionary leader Camilo Cienfuegos's 1959 mint Oldsmobile. Classic Harley-Davidson motorcycles are also exhibited.
Across the street, the Casa de los Árabes (Arabs' House, Oficios #12, tel. 07/861-5868, Tues.-Sat. 9am-4:30pm, Sun. 9am-1pm, free), comprising two Moorish-inspired 17th-century mansions, is the only place in Havana where Muslims can practice the Islamic faith (the prayer hall is decorated with hardwoods inlaid with mother-of-pearl). It houses a small museum dedicated to Levantine immigrants.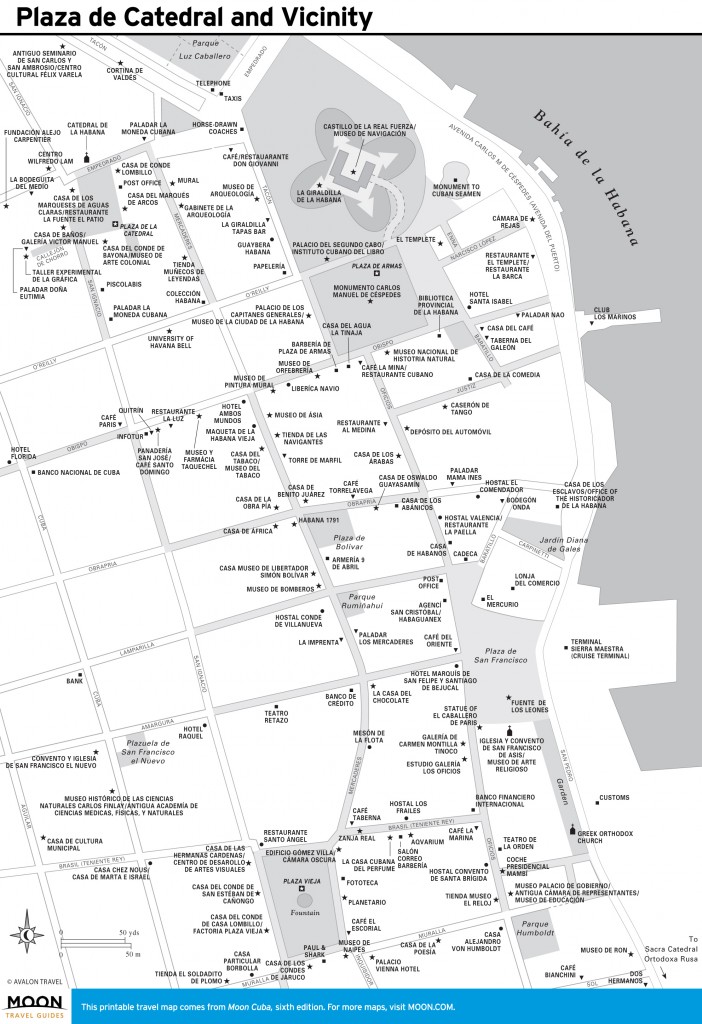 ---
Excerpted from the First Edition of Moon Havana.