St Lucia Aerial Tram
TIME : 2016/2/22 14:11:24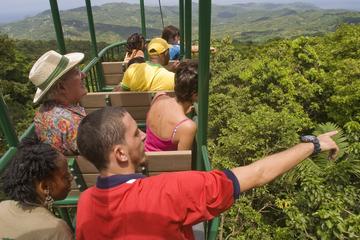 St Lucia Aerial Tram
Imagine yourself able to soar above one of the planet's most majestic rainforests, experiencing what almost seems like a firsthand movie-reel of nature's exotic beauty. Well, in the Caribbean's beautiful St. Lucia, you can, with its Sky Canopy and Air Tram. 
This once in a lifetime joyride allows you to experience St. Lucia from an aerial view as high as 120 feet (37 meters) above ground, and includes a narration on its plush fauna, waterfalls, tree orchids, ferns, and amazing animal-life.
The spectacular open-air tour, which rides through the forest treetops for two and a half hours, is not only a visually stimulating experience, but with the help of a handy professional naturalist, is an educational one as well.
The aerial tram is a comfortable experience that allows up to eight people per tram, perfect for bringing along the entire family. You can also feel free to enjoy drinks in the tram's bar, including one that is complimentary.
Practical Info
Although prices tend to differ depending on the season (which you can book in advance online), the aerial tram could be considered to be a bit pricey, particularly if you are planning on bringing along more than just yourself, and prices do not change very drastically, so be weary. However, if you can spare it, you will not be disappointed.
You Might Also Like