Gros Piton
TIME : 2016/2/22 14:11:25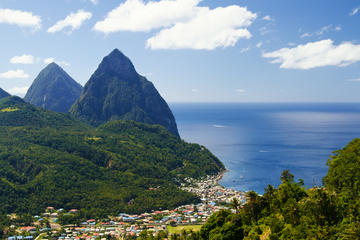 Gros Piton
Saint Lucia is one of the most mountainous Caribbean islands and of its numerous peaks the ones which will most surely stick in your mind are the Pitons. Together they're the country's number one landmark, but these aren't so much 'mountains' in the normal sense, as dramatic, conical outcrops looming over the sea.
Gros Piton is the larger of the two (the other one being – logically enough – Petit Piton). It's a popular climbing destination but a glance at its steep slopes will tell you it's no walk in the park, especially in the tropical heat. But if you've got some climbing experience, your ascent to the 2,619 foot (786 meter) summit will reward you with awe-inspiring views of the sapphire blue sea and lush green coastline.
Practical Info
Gros Piton is south of the town of Soufrière. The village of Fond Gens Libre is at the foot of Gros Piton; the interpretive center will assign you a (mandatory) guide for your climb, which can take up to 12 hours for a round trip.
You Might Also Like