Marigot Bay
TIME : 2016/2/22 14:11:26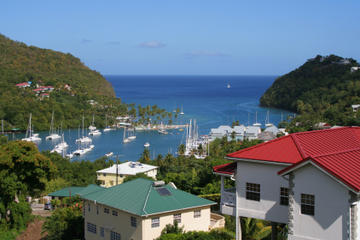 Marigot Bay
Could Marigot Bay be "the most beautiful bay in the Caribbean" as novelist James A. Michener described it? It's certainly among the most photographed and filmed, its white sands, swaying palms, turquoise waters and verdant green hillsides ticking every box in the "tropical paradise" questionnaire.
Minimal development has ensured that this remains a dreamlike location, with the most obvious signs of life being the luxury yachts lolling in the bay or moored at the marina. The luxury Marigot Bay Hotel draws discerning guests but there is no charge to come to the beach for the day and enjoy this island idyll.
Practical Info
Marigot Bay is on Saint Lucia's west coast, just 15 minutes' drive south of the capital, Castries. It is also close to the Saint Lucia National Marine Reserve and the town of Anse La Raye, famous for its Friday Night Fish Fry.
You Might Also Like