St. Lucia Cruise Port
TIME : 2016/2/22 14:11:27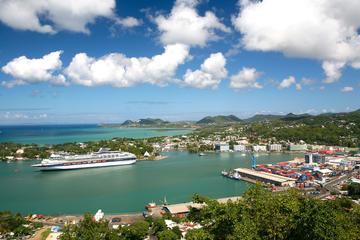 St. Lucia Cruise Port
St. Lucia is one of the most lush and unspoiled of the Caribbean islands. With its pristine beaches and well-protected rain forests, St. Lucia is the ideal spot for travelers looking to get away from it all. Botanical gardens, hidden waterfalls, and the world's only drive-in volcano are some of the many attractions boasted by this island paradise.
How to Get to Castries
Cruise ships dock at Place Carenage or Pointe Seraphine. Both are within comfortable walking distance of downtown Castries. To truly take in the full beauty of the island, take a bus or cab outside the city (both are readily available downtown).
One Day in St. Lucia
You cannot visit St. Lucia without taking in the rain forest. Take it in from the ground level with a walking tour or from the sky with the unique aerial tram and zip line tour! Check out a rain forest canopy from a perspective few will ever experience.
Enjoy St. Lucia at sea on the Catamaran tour, which gives you opportunities to stop by the sulfur springs and a real 19th century coco plantation. Or have the comprehensive island experience with the St. Lucia day tour.  
Port Information
English is the island's official language, but many of the locals also speak Patois. The Eastern Caribbean dollar is the official currency, though most businesses accept American dollars. Be aware that buses on the island will wait until they are full before departing. So this may not be the best mode of transportation, if you're crunched for time.
You Might Also Like