Diamond Botanical Gardens
TIME : 2016/2/22 14:11:28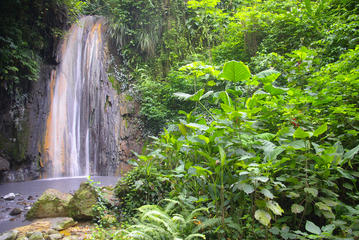 Diamond Botanical Gardens
Deep in a sheltered gorge at the foot of the Pitons, the Diamond Botanical Gardens is part of the Soufriere Estate, one of the oldest and best-preserved estates on the island, still owned by the original family to whom the land was granted by King Louis XIV in 1713. The gardens sit at the edge of the Sulphur Springs Park, and the rich volcanic soil nourishes an incredible collection of tropical plants and flowers.
In addition to walking trails flanked by a lush mix of flora and fauna, the garden is home to a historic mill, a waterwheel and the Diamond Waterfall, one of the most colorful falls in the Caribbean with mineral-laced water that gives it a rainbow-like appearance. Proximity to the sulphur springs means these grounds also boast volcanically heated mineral baths that have been used as relaxing soaking tubs since King Louis XVI built his troops a bathhouse here in 1784.
Practical Info
Diamond Botanical Gardens sits about 1.2 miles from Soufriere, which sits along the southwest coast, about 25 miles (40 km) from Castries. The entrance fee costs $7 (children enter for half price), and opening hours are Monday through Saturday, 10 a.m. to 5 p.m.; Sunday (and public holidays) 10 a.m. to 3 p.m.
You Might Also Like