Naschmarkt
TIME : 2016/2/22 9:54:20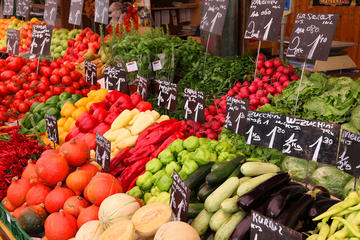 Naschmarkt
If you're looking to sample authentic Viennese cuisine or soak up some local culture, pay a visit to the Naschmarkt, the oldest and most beloved of Vienna's many markets. Dating back to the 16th century, the Naschmarkt has occupied its present location since 1793, stretching for more than a kilometer along the Wienzeile, just south of Vienna's historic center. Over 170 stalls take over the vibrant market hall each day between 6am and 6.30pm, selling an array of food produce from around the world.
Visiting foodies will be in heaven here, with stalls heaped with fresh meats, seafood, fruits and vegetables, international wines and artisan cheeses. Most notable is the variety of ethnic cuisines, from an Indian and Middle Eastern section dotted with kebab and falafel huts, to a spread of stalls devoted to Oriental cuisine and a colorful array of exotic spices. Once you've stocked up on fresh goods, head to one of the many surrounding cafés, where you can tuck into local pastries or sip some traditional Viennese coffee.
The Naschmarkt is also renowned for its weekly flea market, held every Saturday and selling everything from vintage clothing, books and records, to antique jewelry and Eastern European curiosities.