Ghent
TIME : 2016/2/22 9:56:34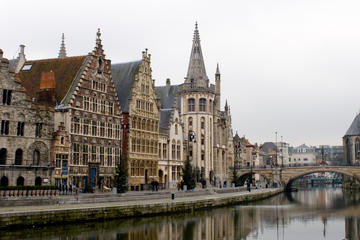 Ghent
Shhh, don't tell everyone about Ghent. Just go there and love it. It has all the history, architecture and art of the more touristy Bruges, Brussels and Antwerp, but is also a lively modern city with a big university and healthy calender of annual festivals.
Ghent sits at the meeting point of two rivers: the Leie and the Scheidt, so it's always been an important port - which helped make it wealthy. With roots right back to the Stone Age, Roman times, and abbeys founded in 650AD, by the 13th century Ghent was the largest European city after Paris. During the 14th century it was building its wealth through trading with England, turning English wool into cloth and selling it back. Inevitably war and taxes brought all this undone, culminating in the defeat of the city by one of its own sons, Charles V who had become Holy Roman Emperor and King of Spain and did not appreciate the feisty opposition of the merchants of Ghent not wanting to pay hefty taxes to fund his military campaigns.
Alongside the impressive history which permeates Ghent - Gravensteen castle, St Bavo Cathedral (the patron saint), the Belfry (great views) and the old port of Graslei – the city has excellent museums of art, from Hieronymous Bosch to Joseph Beuys.  It also hosts annual techno music festivals, film festivals, and the renowned Gentse Feesten, ten days when the city is taken over with music and theatre.
You Might Also Like