St Michael and St Gudula Cathedral
TIME : 2-22 9:56:51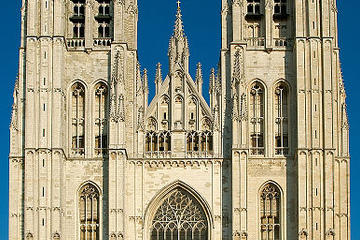 St Michael and St Gudula Cathedral
It took 300 years to complete the St. Michael and St. Gudula Cathedral and its architecture spans styles from Romanesque to Gothic to Renaissance. The Renaissance stained-glass windows are amazing and fill the cathedral with light. Inside, the chapel is not overly adorned after plundering by various invading armies.
The cathedral sits atop the ruins of an 11th century Romanesque chapel the remains of which can be viewed in the crypt. Saints Michael and Gudule are the male and female patron saints of Brussels. All Royal weddings take place here and many concerts are held throughout the year. On Sundays a concert is played on the carillon of 49 bells.
There is also a family of Peregrine Falcons who live in the northern tower of the cathedral. In front of the St. Michael and St. Gudula Cathedral is a viewing spot and on Sunday afternoons local bird experts are on hand to answer any questions.
Practical Info
The cathedral is a block away from Centrale train station or a few blocks from Parc. Any buses heading to Centrale will also land you near the cathedral.
You Might Also Like