Royal Galleries (Les Galeries St-Hubert)
TIME : 2016/2/22 9:56:52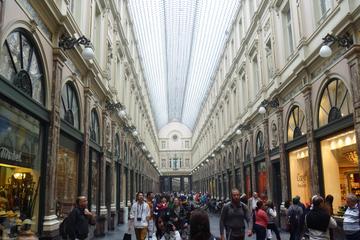 Royal Galleries (Les Galeries St-Hubert)
The Royal Saint Hubert Galleries are a series of shops and restaurants in Brussels that are covered by panes of glass. They were designed by the architect Jean-Pierre Cluysenaer in 1847 and are often referred to as the umbrella of Brussels. The galleries are divided into three different sections: the Galerie de la Reine, the Galerie du Roi and the Galerie des Princes. The glass roof helps protect visitors from rain or cold weather. In the past, visitors had to pay 25 cents on Thursdays and Sundays and 10 cents on other days just to access the galleries. Of course today it is free to visit, and over 6 million people visit each year. 
The galleries have something for everyone. There are boutiques selling the latest fashions as well as more classic clothing. Accessories shops sell gloves, hats, umbrellas and more. Several jewelry stores are located here along with book stores, chocolate shops, and other specialty shops. There are plenty of restaurants and cafes for when you get hungry. The galleries even have a cinema and a theater in case you're looking for entertainment. Even if you're not interested in shopping, the Royal Galleries are a nice place for a stroll while taking in a bit of the city's history.
Practical Info
The Royal Saint Hubert Galleries are located at Rue du Marché-aux-Herbes near the Grand Place. Opening hours vary by store.