Lefkara
TIME : 2016/2/22 10:35:40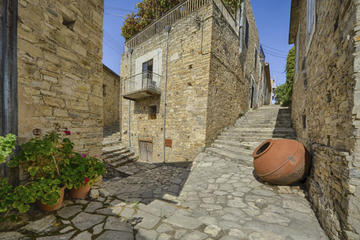 Lefkara
A sleepy village tucked away in the foothills of the brooding Troodos mountains, historic Lefkara is charmingly picturesque and a popular stop on a tour of the surrounding mountains. Taking its name from 'Lefka Ori' or 'White Mountains', the village's characteristic white stone buildings and timeworn cobblestones are its most distinctive asset and the small center can easily be explored on foot, admiring landmarks like the Church of the Holy cross along the way.  
Lefkara is best known for its rich lace-making heritage, a unique tradition that dates back to the 15th century and was honored on the UNESCO Intangible Cultural Heritage list back in 2009. Today, visitors to Lefkara can still see the local ladies creating the intricate, hand-stitched Lefkaritika lacework as they sit chattering in their shop fronts, as well as visiting the fascinating Handicraft Museum, where the art form takes center stage.
Practical Info
Lefkara is approximately 45km south of Nicosia in southern Cyprus. 
You Might Also Like