Henry's Bell Tower
TIME : 2016/2/22 10:36:50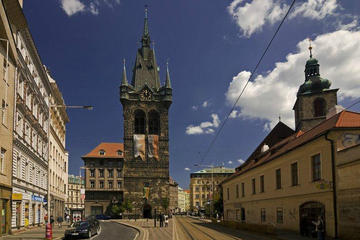 Henry's Bell Tower
Henry's Bell Tower (also known as the Tower of St Henry) is the tallest free standing bell tower in Prague. More than 200 feet tall, it was first built in the 15th century as the bell tower of the Church of St. Henry and Kunhuta, the parish church of the New Town in Prague. Originally made of wood, the current stone version was built at the end of the 16th century and renovations in 1879 gave it a neo-Gothic appearance.
The interior of the tower was completely modernized in 2001 by adding a self-supporting iron-concrete structure inside and today visitors can enjoy a café and whisky bar on the ground floor, two floors of exhibition space, a restaurant on the 7th to 9th floors and an observation deck on the 10th floor. All floors are accessible by either stairs or elevator. A chime was installed in the tower in 2003 with 10 small bells. Every hour it plays one of more than 1000 preprogrammed tunes that can only be heard inside the tower.
Practical Info
Henry's Bell Tower is located on Jindrisska Street, which connects Wenceslas, Charles and Senovazne Squares. It is accessible from either the Námestí Republiky or Mustek Metro stations or by tram 3, 9, 14 or 24 to the Jindrisska stop. The tower is open April to October, Monday to Friday, 9 a.m. to 7 p.m. and Saturday and Sunday, 10 a.m. to 7 p.m. It is open November to March, Monday to Friday 9 a.m. to 6 p.m. and Saturday and Sunday 10 a.m. to 6 p.m. Admission is 75 Czech koruna.