London Aquarium
TIME : 2-22 10:45:29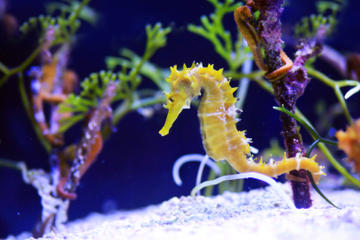 London Aquarium
The Sea Life London Aquarium hosts thousands of sea creatures from all over the world in over 65 displays. One of the largest aquariums in Europe, this site features 12 different species of sharks, stingrays, sea scorpions, Cuban crocodiles who have been hunted to near extinction because of their pearly skin, and cute gentoo penguins. 
Within the aquarium, more than 2 million liters of water, divided into different biotopes, allow visitors to discover the coastlines and depths of the oceans and their strange and fascinating creatures all without getting wet. Aquarium-goers do get the choice, however, as they may get the chance to feed a sting ray during the daily feedings. Other feeding events and informative talks are hosted throughout the day to inform and entertain while allowing guests to take a more interactive approach with the animals. 
To get their adrenaline flowing, visitors can walk above the shark tank with only a thin, glassy surface separating them from the predators swimming below. Another aquarium highlight is the 27-yard-long (25 m) underwater Ocean Tunnel constructed out of a massive blue whale skeleton. The tunnel allows visitors to observe tropical fish and graceful turtles darting around corals. Later, you'll know you have entered the rainforest exhibit when you feel the leaves and twigs crunching under your feet and see a family of poison arrow frogs, piranhas and different species of crocodiles. Keep going and you'll find a recent addition to the aquarium, the CLAWS exhibition, which hosts gigantic 12-foot-long Japanese spider crabs and lets visitors observe the crustaceans from all angles with a crawl-through tunnel.
Practical Info
The aquarium is located on the South Bank of the Thames, within the County Hall building, and can easily be reached by tube via the Waterloo and Westminster stations. It is also possible to arrive by rail at the nearby Waterloo train station. Sea Life London is open seven days a week from 10 a.m. to 7 p.m., although it might be a good idea to find out the feeding times of your favorite animal and time your visit accordingly.
You Might Also Like