Palace of Versailles
TIME : 2016/2/22 10:50:53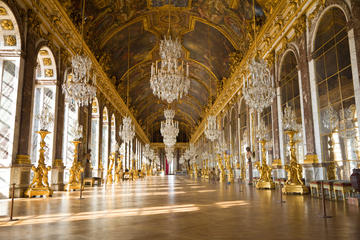 Palace of Versailles
The Chateau de Versailles was the creation of Louis XIV. He took his father's hunting lodge, transformed it into a work of wonder and excess and moved the whole court and government of France from Paris to Versailles in 1682. The next two French kings added their own special touches but eventually it all became too much for the starving French people and in 1789 they revolted. After the French Revolution, Versailles was no longer the seat of power and after 1830 it became the Museum of the History of France.
Inside, the huge palace's 700 rooms are replete with gilded cornices, frescoed ceilings and carved details. Outside, it is surrounded by famously formal gardens with geometrically designed walkways, fountains, canals and terraces.
Any visit to Versailles must include seeing the Hall of Mirrors, the King's Grand Chambers, the Grand Trianon and Marie-Antoinette's famous estate where she went to play at being a simple country girl.
There is a lot to see, so plan your visit based on the chateau's four sections: the multiple-winged palace building, the vast gardens and two smaller palaces, the Grand Trianon and Petit Trianon.
Practical Info
The palace is located in the small township of Versailles 21 kilometers (13 miles) outside of Paris, and it is easy to reach by train. Catch RER C from Paris to Versailles Rive Gauche station, only a 10-minute walk away from the palace. You can also catch the SNCF train from Paris Montparnasse station to Versailles Chantiers or from Paris Saint Lazare to Versailles Rive Droite station.
You Might Also Like