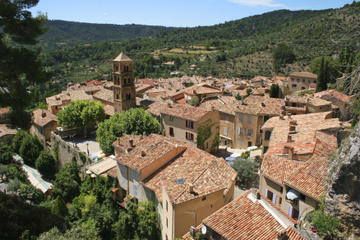 Moustiers Ste-Marie
Often classified as one of the most beautiful villages in France, Moustiers Ste-Marie lies at the western entrance of the majestic Verdon Gorge National Park, and is built on 300-foot (100-meter) platform terraces up the side of limestone cliffs.
The most popular thing to do in Moustiers Ste-Marie, besides roaming its romantic, winding alleys, is to stand atop the Notre-Dame-de-Beauvoir chapel and admire the jaw-dropping panorama over Plateau de Valensole (one of the biggest lavender-producing areas in Provence, especially lovely in July when the fields are in full bloom).
Visitors who would rather stay on firm ground should consider visiting Notre-Dame-de-l'Assomption church, a historic building with a stunning Romanesque bell tower and nave. Alternatively, they can shop for the world-famous Moustiers faience (pottery) at one of the village's 20 workshops, a craft that has been a specialty of the region since the Middle Ages.
But the most peculiar sight in Moustiers Ste-Marie sways high up in the air; the star of Moustiers, as the locals call it, is a 2.5-foot wide, 16-branch star that hangs on a 700-foot chain suspended between two cliffs. Rumor has it that it was the ex-voto of the Knight of Blacas, who promised to build an offering to honor the Virgin Mary if he made it back home alive after being taken prisoner during the Crusade.
Moustiers Ste-Marie is one of the many French villages that simply don't have to do much to impress; a simple glance at its squares, its colorful facades and its striking views will suffice to charm even the most reluctant visitor.
Practical Info
Moustiers Ste-Marie is located 56 miles (90 km) northeeast of Aix-en-Provence. It can be reached by car within 1.5 hours via the A51 and D952, and it can also be reached from Cannes via the A8 in just under two hours.