Hall of Mirrors
TIME : 2016/2/22 10:52:29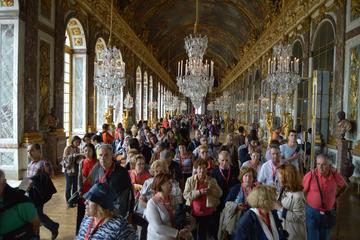 Hall of Mirrors
Built during the reign of Louis XIV in the mid-17th century, the Palace of Versailles nearly emptied the kingdom's coffers as 30,000 workers and soldiers toiled to flatten hills, move forests, and drain marshes to create the fantastical palace and gardens that so effectively projected the absolute power of the French monarchy at the time.
The opulence of Versailles reaches its peak in the central gallery known as the Hall of Mirrors — a 75-meter-long ballroom with 17 huge mirrors on one side and, on the other, an equal number of arcaded windows looking out over the formal gardens. Designed by architect Jules Hardouin-Mansart and decorated by painter Charles le Brun, construction of the Hall of Mirrors began in 1678, and it has quite the history: this was the setting for 17th- and 18th-century royal ceremonies, and it was also the location for the signature of the 1919 Versailles Treaty that formally ended WWI.
The Hall of Mirrors used to be even grander, but to help fund the 1689 War of the League of Augsburg, much of the gallery's silverware and guéridons were melted by order of Louis XIV.
Practical Info
Visit the Hall of Mirrors and the Palace of Versailles in the morning and on weekdays to avoid the crowd as much as possible. To get there by train, visitors can buy a "Paris Versailles Rive Gauche" (zones 1-4). The Versailles Express bus can also take you from the Eiffel Tower to the palace. There are various entry prices, depending on the sections you want to visit, but the Passeport ticket lets you in anywhere at Versailles and costs €18, while a ticket to the Palace of Versailles costs €15. The palace is open from 9am–5:30pm in winter from Tuesday to Sunday (the gardens are open every day), and in high season from 9am–6:30pm.
You Might Also Like