Russian Cathedral
TIME : 2016/2/22 10:55:34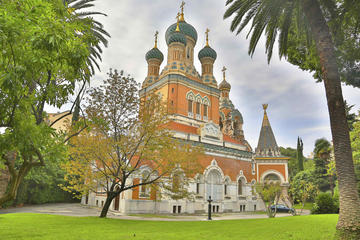 Russian Cathedral
Nice is full of interesting architectural delights, but perhaps none is as unique as the Russian St Nicholas Orthodox Cathedral, which speaks to the history of Nice as a popular destination for visitors from all over the world. While the Promenade des Anglais is a nod to the English, who wanted to walk along the shoreline in the sun without being directly on the beach, the cathedral is a similar concession, this time to the Russian nobility – namely Tsar Nicholas II – who found the mild climate and beautiful location to be equally alluring.
The cathedral is one of the top sites to visit in Nice, although it isn't remotely French. Even if it weren't commonly known as the Russian Cathedral, one look at its exterior would give it away; it looks as though it was shipped directly from Moscow, with its fanciful onion-shaped domes and brightly colored exterior. Inside, as befitting a Russian landmark, its collection of icons is one of the finest in the world, and the interior architecture and color scheme looks like a bejeweled Easter egg.
Practical Info
The Russian Cathedral is located on Avenue Nicolas II and is free to enter. Note that although it is open every day, it does close mid-day from noon to 2:30 p.m. Also, check in advance for any special events that may prevent visitors from touring the interior.