Lake of Sainte-Croix
TIME : 2016/2/22 10:55:37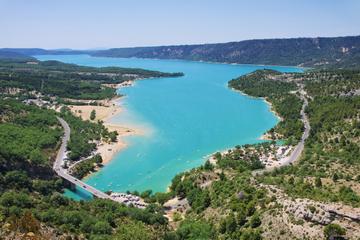 Lake of Sainte-Croix
Set at the foot of the majestic Verdon Gorges (the largest canyon in Europe) and the Valensole plateau is the Lake of Sainte-Croix, a manmade lake created during the construction of a nearby arch dam in the 1970s. Far from being just a run-of-the-mill stretch of water, Lake of Sainte-Croix is famed for its stunning, vivid emerald-turquoise hues that could fool anyone into thinking they've been teleported to an exotic Caribbean island.
The largest lake in Provence (third largest in all of France) is an ideal summer destination. France's poster region for art de vivre doesn't disappoint, especially as far as aquatic sports and beaches are concerned–some of the best in the southeast according to locals, with water temperatures rivalling that of the more crowded Mediterranean Sea.
Most sporting facilities (including those with pedal boats, kayaks, sail boats, wind surfs and motor boats) are located in waterfront Sainte-Croix-du-Verdon, an idyllic, hilltop commune of less than 150 inhabitants, a number that swells considerably come summer. The village is centered around its 16th-century chapel and has several cafés and restaurants, where it is possible to enjoy the best of what the region has to offer against a dreamy, dramatic backdrop.
Practical Info
The lake is located 1.5 hours away from Aix-en-Provence via the A51 and D952. It is also reachable via the D6 for an equally scenic yet slightly different route. There is ample accommodation nearby, including hotels, guesthouses and camping sites. Reservations are recommended, especially for the summer months.
You Might Also Like