Poitou-Charentes
TIME : 2016/2/22 11:00:20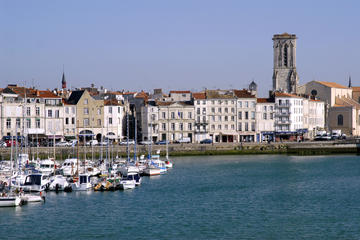 Poitou-Charentes
Located between the popular Loire Valley and the vineyards of Bordeaux, the region of Poitou-Charentes is often overlooked by travelers in France. But its combination of coastline, countryside and cognac makes it an excellent choice for a side trip from Bordeaux.
The coastline includes the historic port of La Rochelle, which was originally occupied by the Gauls before changing to Roman hands. It has played an integral part in many wars throughout history and served during peacetime as a gateway to the New World. A walk around the port and the old town is a must before heading to the Île de Ré, connected to the mainland by a causeway. It's a popular summertime spot for the French, and its charming residential architecture and lighthouse are perfect for photos.
The interior of the Poitou-Charentes region is best personified by Poitiers, its capital. With its Celtic roots, Roman heritage (and ruins) and Baptistère Saint-Jean, the oldest church in France, Poitiers is a true hidden treasure in the French countryside about halfway between Paris and Bordeaux. And its ultra-modern Futuroscope just outside town, with its 3D and 4D interactive exhibits, is another huge draw for the French and foreign alike.
And finally, there is the cognac, which originated here. Between Hennessey factory tours, a cognac museum and five do-it-yourself cognac trails, this magical elixir will take on a whole new meaning for enthusiasts in the region.
Practical Info
Poitou-Charentes is a 10,000-square-mile region in southwestern France, located between Loire Valley and Bordeaux.