Pont Alexandre III
TIME : 2016/2/22 11:00:21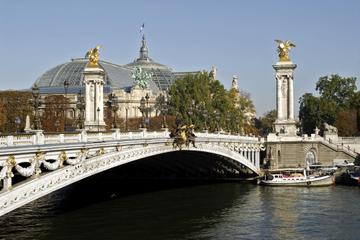 Pont Alexandre III
Arguably the most beautiful bridge in Paris, Pont Alexandre III was inaugurated in 1900 and crosses the Seine from Le Grand Palais to Invalides. If it looks familiar to you, that's because its elegant design and Art Nouveau elements have been featured in Woody Allen's Midnight in Paris, Adele's iconic video for her smash hit "Someone Like You" and even James Bond's film A View to a Kill.
The theme of the bridge's coats of arms celebrates the alliance between France and Russia, with the Nymphs of the Seine and Neva Rivers. The four gilt statues symbolize Science, Art, Contemporary France and the "France of Charlemagne."
Practical Info
The Invalides stop on both the M8 and the M13 brings you directly to the Left Bank entrance of the bridge.