Roman Mountain (Römerberg)
TIME : 2016/2/22 11:02:44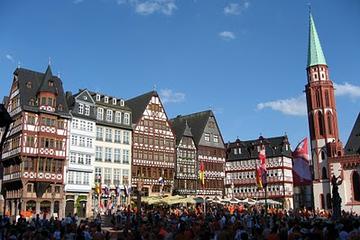 Roman Mountain (Römerberg)
Römerberg (or Roman Mountain) is the historic heart of Frankfurt and often the first stop for tourists. The Town Hall, or Römer, is located on the west side of the square and consists of 3 pink colored buildings with gables built in Gothic style. Römerberg was ravaged by bombings during World War II and was later rebuilt to reflect its original Gothic style.
Römerberg is a beautiful square situated in Frankfurt's Old Town. It is flanked with half-timbered houses, a church, and the Town Hall. Since the 12th century, this square has played an integral role in trade fairs. Travelers came from Italy and France to attend trade fairs in Römerberg. In addition, it was the site major celebrations and festivities, such as the coronation of Holy Roman Emperors, held in the Town Hall.

Practical Info
Römerberg is about a 15 minute walk from Central Train Station. Flanked by quaint houses, this historic square was the site of Frankfurt's first trade fairs in the 13th century and a popular modern attraction complete with charming shops and restaurants.

You Might Also Like