Old Town Hall (Altes Rathaus)
TIME : 2016/2/22 11:03:30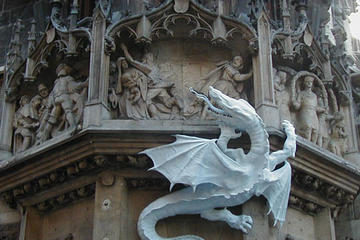 Old Town Hall (Altes Rathaus)
Enclosing Munich's central square Marienplatz, the Old Town Hall, Altes Rathaus in German, serves as the center for city council activity for the historic city. The Old Town Hall is also known for its architechture style change from Baroque to Gothic after the structure was bombed during World War II.
The interior is a masterpiece of medieval design with golden stairs, decorated beams, and a frieze of Munich's multiple coats of arms. The Grand Hall is decorated with the figures of Erasmus Grasser's Marisco Dancers. The tower of the Old Town Hall is now home to the Toy museum, a childhood collection by Ivan Steiger.
Practical Info
The subway stop at Marienplatz makes it a center of pedestrian traffic, and markets often surround the area near Altes Rathaus.