Königsplatz (Kings Square)
TIME : 2016/2/22 11:04:12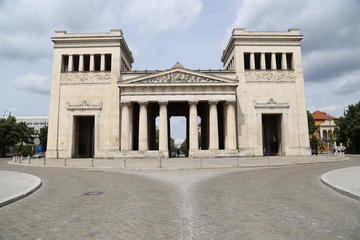 Königsplatz (King's Square)
Königsplatz was initially built to serve the urban notions of  King  Ludwig  I, who wished to integrate culture, administration, Christianity and Bavarian military in one massive green space. The king opted for a European Neoclassic style based on the Acropolis in Athens. He even had two museums built in the same  style; first was the  Glyptothek, where he could house  his  sprawling collection of Greek and Roman sculptures, and  second, the Bavarian State Collection of  Antiques, which  contains Greek, Etruscan and Roman artifacts. King Ludwig I also commissioned the Propylaea, an imposing and austere gate which served as a memorial to his son, the Bavarian prince Otto of Greece.
Despite this architectural and urban prowess, the square is now infamous for being the place where the Nazi party held marches and mass rallies during the Holocaust. In fact, the national headquarters of the Nazi party, the Brown House, was located on Brienner Straße just off the square. It was even featured in a Nazi propaganda film, The March to the Führer. Two temples were built on Königsplatz to honor the 16 Nazis killed in the  failed coup attempt by  Adolf  Hitler to seize power in 1923  –  they were later on destroyed (except for their platforms, which are still visible today) as part of Munich's denazification by the US Army in 1947. 
However, not  all  Nazi constructions were systematically demolished;  the Führerbau, for example, where the Munich Agreement was signed in 1938, still exists to this day and houses a music school.
Today, Königsplatz has returned to its pre‐war appearance and remains one of Munich's most significant attractions. It is now regarded as the center of Munich's museum quarter, the Kunstareal.
Practical Info
The area can be reached by subway via line 2 (stop Königsplatz) and by tram via lines 27 and 28 (stop Karolinenplatz). It is also within walking distance of Munich Hauptbahnhof.