Chamaeleon Theater
TIME : 2016/2/22 11:05:18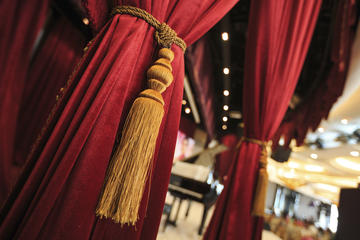 Chamaeleon Theater
The Chameleon (or Chamäleon in German) Theater was once a ballroom dating back to 1906. It is located in the Hackesche Höfe, a historic area of courtyards in Berlin's Mitte district and reopened about 10 years ago as a modern cabaret theater. Artists from around the world perform choreographed shows here, and since they're generally displays of dancing and body language, there is no need to worry about language barriers.
The Chameleon Theater connects the past of the historic ballroom with the present and future on its stage with its entertaining shows. Performances feature an exciting variety of acrobatics, music, dance, comedy and drama, which is all part of the theater's goal of enchanting its guests with bold shows from world-renowned performance artists. Each season, the theater changes its colors to fit with the next upcoming show, so the experience is ever-changing.
Practical Info
The Chameleon Theater is located at Rosenthaler Straße 40-41 in Berlin Mitte. The box office is open from 11 a.m. to 6 p.m. on Monday, until 8 p.m. on Thursday and Friday, and until 9:30 p.m. on Saturday. On Sunday, it is open from noon to 6 p.m.
You Might Also Like