German National Museum (Germanisches Nationalmuseum)
TIME : 2016/2/22 11:05:44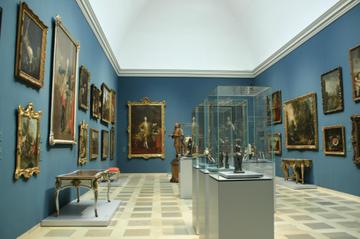 German National Museum (Germanisches Nationalmuseum)
Founded in 1852, the home of the German National Museum has extended over the years as the collection has increased; it was originally housed in a 14th-century former monastery, to which a Neo-Gothic extension was added in the 1900s. Extensive bomb damage in World War II led to architect Sep Ruf designing glass-and-brick replacements for demolished galleries in the 1960s and the last addition was the glass entrance foyer, which is approached via thought-provoking sculptures in the Avenue of Human Rights by Jewish artist Dani Karavan.
Today the multi-story museum contains some 1.3 million artifacts showcasing Germanic culture and art, all on show in light, airy galleries and divided into 23 collections encompassing – among others – prehistory, prints and drawings, textiles, decorative arts, musical instruments and 20th-century art.
Thanks to the museum's immense size, some cherry picking is vital, so the highlights of the chronological exhibitions include a handsome display of Baroque porcelain, the fabulously over-the-top decoration in the wood-paneled Aachen Room and a cluster of wacky work by Joseph Beuys. Also worth catching are the Stone Age tools, the scary-looking 18th-century dolls and ancient suits of armor in the Weapons Room – and don't miss the circumcision clamps or tools for staffing sausages.
Practical Info
Located at Kartäusergasse 1, the museum is open Tuesday and Thursday through Sunday from 10am to 6pm, as well as on Wednesday until 9pm. Admission costs €8 for adults, while concessions cost €5 and a family ticket is €10. Take U-bahn Line 1 to Lorenzkirche, or Line 2 to Opernhous.
You Might Also Like