Lake Titisee
TIME : 2016/2/22 11:06:06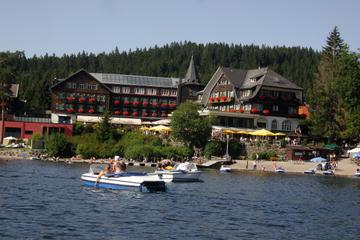 Lake Titisee
Southeast of the lovely medieval city of Freiburg in the scenic region of Baden-Württemberg, Lake Titisee is located in the Black Forest National Park amid thick forest in the foothills of Feldberg and Hochfirst. Formed by glaciers in the last Ice Age some 10,000 years ago, the lake is a popular vacation destination surrounded by the pretty town of Titisee-Neustadt, which is packed with shops, restaurants and spa hotels where many people go to take the waters. The town has a romantic lakefront promenade and is also home to the famous German cuckoo-clockmaker, Hönes, and no visit is complete without a tour of the historic factory. 
At two kilometers (1.25 miles) in length and up to 40 meters (131 feet) in depth, Titisee is the highest lake in the Black Forest and can be strolled around in 1.5 hours; in summer it is a magnet for sailors and swimmers as well as pleasure-boat cruisers. In winter the lake freezes and the sports switch to skating and ice hockey, while – thanks to its altitude at 850 meters (2,790 feet) – there is skiing and boarding in the surrounding mountains as well as ski jumping at Hochfirstschanze, site of the World Championships in 2005.
Practical Info
Lake Titisee borders the Black Forest resort town of Titisee-Neustadt, 30 km (18.75 miles) from Freiburg, about 1.5 hours south of Zurich in Switzerland and under two hours from Strasburg in France.
You Might Also Like