Royal Palace (Residenzschloss)
TIME : 2016/2/22 11:06:46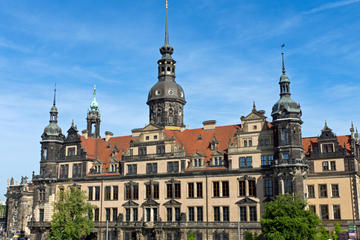 Royal Palace (Residenzschloss)
The Dresden Royal Palace is a Renaissance castle that was home to Saxony's kings and electors starting in the late 1400s. It was built with defense in mind and has limited gates and massive walls. The palace burned towards the end of World War II, and reconstruction began in the 1980s. Today it houses the Dresden State Art Collections. The museums here include the Coin Cabinet and the Collection of Prints, Drawings, and Photographs, the first two collections to return to the museum after reconstruction began. Other museums include the New Green Vault, the Historic Green Vault, the Turkish Chamber, the Armory, the art library, and several other collections and galleries.
Visitors can explore the artwork, antiques, and other unique items found in the different sections of the palace to get an idea of what royal live was like during the renaissance period and other times throughout history. There are two courtyards attached to the palace, which have been enclosed in recent years for more practical use as part of a museum.
Practical Info
The Royal Palace is located at Taschenberg 2. Admission is 12 euros for the Historic Green Vault and 12 euros for the other sections, or a combo ticket can be purchased for 21 euros. Opening hours are Wednesday to Monday, 10am to 6pm.
You Might Also Like