Schöner Brunnen
TIME : 2016/2/22 11:06:48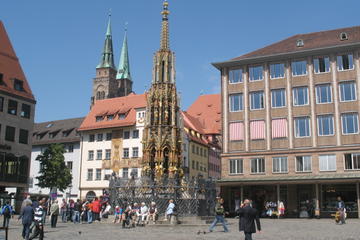 Schöner Brunnen
The ornate Schöner Brunnen is a landmark fountain in the cobbled Market Square (Hauptmarkt) of Nuremberg's medieval Altstadt (Old Town). Created by local stonemason Heinrich Beheimby, it is a highly decorative, three-tiered masterpiece of religious imagery, adorned with 40 gaily colored, sculpted figures representing characters from the Holy Roman Empire.
At 62 feet (19 meters) high, the fountain has been restored several times over the centuries, and most of its original stone carvings are now preserved in the German National Museum (Germanisches Nationalmuseum). The wrought-iron fence that surrounds the Gothic fountain was designed by Paulus Kühn of Augsburg in 1587 and has a famous golden handle that must be twisted for good luck.
The Market Square itself is lined with multi-gabled townhouses and the ornate façade of the Church of Our Lady (Frauenkirche), the site of a daily food market, as well as the famous Nuremberg Christmas Market (Christkindlesmarkt), which sees visitors pour in from all over Europe.
Practical Info
The fountain site at Nürnberg Hauptmarkt and is accessible through the Altstadt (Old Town) on foot 24 hours a day.
You Might Also Like