Schwetzingen Castle
TIME : 2016/2/22 11:06:49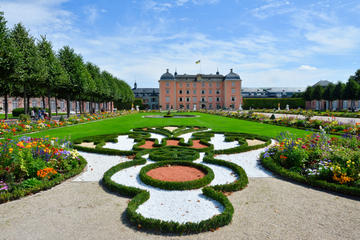 Schwetzingen Castle
Schwetzingen Castle is a palace in the northern part of the Baden-Württemberg region of Germany, not too far from Heidelberg. The castle can trace its origins back to 1350 when a small moated castle stood in its place. The Prince Elector Johann Wilhelm commissioned alterations to the castle in 1697, which included two additional wings that greatly added to the size of the castle. This is how the current form of the building came to be.
The castle flourished under the Prince Elector Carl Theodor in the 1700s. He had leading landscape architects design beautiful gardens for the palace. They created geometrical patterns and leafy avenues, and later an English-style landscaped park called the Arborium Theodoricum was added to the Baroque garden. It is one of the earliest of its kind in Germany. Throughout the garden are buildings and statues designed in styles from Greece, Italy, Turkey, and beyond, giving it an exotic atmosphere. The palace's rooms contain furniture and artifacts from the 18th and early 19th centuries.
Practical Info
Schwetzingen Castle is located in the town of Schwetzingen 7 miles from Heidelberg and 54 miles from Frankfurt.
You Might Also Like