Sea Life Munich
TIME : 2016/2/22 11:06:51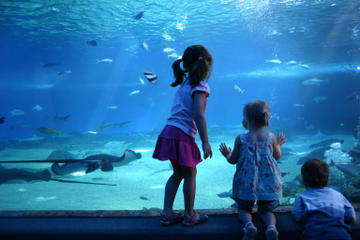 Sea Life Munich
Sea Life Munich is Germany's largest Sea Life center, taking visitors on an underwater journey through local rivers and tropical seas, from the comfort of its 2,200 square meter Olympic Park building. With over 8,000 weird and wonderful sea creatures swimming in over 700,000 liters of water, and 33 climate-controlled aquariums, the facts speak for themselves, and there's no better place to stand face-to-face with the creatures of the deep.
The center's star attraction is its 400,000-liter ocean aquarium, equipped with a 10-meter long glass-walled foot tunnel that burrows through the tank, beneath prowling sharks, sea turtles, slimy octopus and hundreds of colorful fish. Featuring interactive exhibits that are as entertaining as they are educational, the aquarium's focus is on recreating and preserving the world's natural habitats and themed tanks represent the natural ecosystems of the Black Sea, the Mediterranean Sea, the Danube and the local River Isar, among others. An added twist is that many of the most famous Sea Life center inhabitants have names and biographies, so children can meet Gonzales the sea turtle and Nemo the Clownfish, as well as watching the daily feeding of the fish.  A small rock pool allows further interaction, where it's possible to touch or hold small sea creatures like starfish, anemone and crabs.
Practical Info
Booking online is less expensive than buying a ticket at the door. Prices online are: 11.55 EUR for Adults and 8.05 EUR for Children. Throughout the year, the center is open from 10am - 5pm, but some months it is open until 6pm or 7pm. Please refer to the opening times page for more information.
You Might Also Like