St Jacobs Church (St Jakobskirche)
TIME : 2016/2/22 11:06:55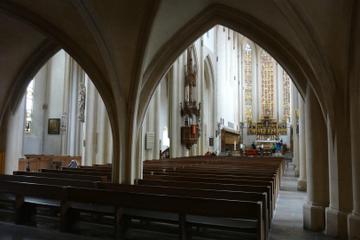 St Jacob's Church (St Jakobskirche)
A short stroll from Rothenburg's main square, the striking St Jacob's Church (St Jakobskirche) is among Germany's most impressive medieval churches, dating back to 1485. An important spiritual center and place of pilgrimage since the Middle Ages, St Jacob's Church contains a number of significant relics, most notably the Altar of the Holy Blood, an early 16th-century wood carving by Tilman Riemenschneider, which represents the Last Supper and includes a glass vial, allegedly containing a drop of Christ's blood.
St Jacob's is also architecturally impressive, with its grand Gothic towers looming over the town and highlights including the striking Twelve Apostles Altar and the East Choir, where the dazzling stained glass windows date back more than 700 years.
Practical Info
St Jacob's Church (St Jakobskirche) is located in Rothenburg ob der Tauber on Germany's Romantic Road and is open between April- October from 9am to 5pm, and November-March from 10am to 4pm. Admission is free.
You Might Also Like