St Lambertus Church
TIME : 2016/2/22 11:06:56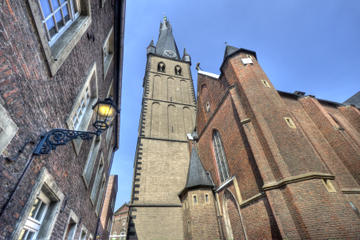 St Lambertus Church
Among the most iconic landmarks of Dusseldorf's picturesque Alstadt (Old Town), St Lambertus Church is famous for its distinctive twisted tower. Originally built in the 14th century, the church tower was rebuilt after a fire in 1815 and the use of wet arbors caused it to twist. Legend however, tells a different story – a bride dressed in white came to the altar pretending to be a virgin, and the tower turned, allegedly to only return to its previous form when a real virgin appears at the altar.
Today the medieval church is among Dusseldorf's oldest buildings, with highlights including the bronze-coated door by Ewald Mataré, the exquisite Rieger organ and the tomb of Duke Wilhelm V of Jülich-Kleve-Berg.
Practical Info
St Lambertus Church is located on Stiftsplatz in Dusseldorf's Alstadt (Old Town) and is open weekdays from 10am-5pm. There is no admission fee.
You Might Also Like