St Lorenz Church
TIME : 2016/2/22 11:06:56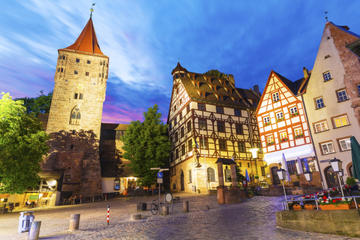 St Lorenz Church
With a lacy rose window and delicate religious statuary, the fancy Gothic façade of St Lorenz Church dominates Nuremberg's Altstadt (Old Town) with its landmark copper-topped twin spires and began life as a Catholic church. When the Reformation came in the early 16th century, St Lorenz soon became one of the most important Lutheran churches in Bavaria and also one of the very few with its rich hoard of treasures still intact.
Construction began on the church in 1270 and lasted for more than two centuries; its interior is a mass of pale-gray marble with a net-vaulted ceiling and soaring columns, with three aisles liberally stacked with masterly artworks. Light floods in behind the choir through the delicate stained-glass windows and the pulpits gleam with gold and gilt, but of most note are the intricate sculpture of the Annunciation above the altar by 16th-century artist Veit Stoss, who also created the figure of Archangel Michael standing proud in the nave. The painted panels on the choir are the work of Michael Wolgemut, a printmaker whose most famous pupil was Albrecht Dürer.
Badly damaged during WWII bombing raids by the Allies, the church was restored and re-consecrated in 1952. Midday organ and choir recitals are often held here and tours of the towers are available.
Practical Info
Located at Lorenzer Platz 10, the church is open Monday through Saturday from 9am to 5pm and on Sunday from 1 to 4pm. Admission is free, but a donation of €1 is requested. A tower tour costs €4 for adults and €2 for those under 18. The site is accessible through the Altstadt (Old Town) on foot.
You Might Also Like