St Nicholas Church (Nikolaikirche)
TIME : 2016/2/22 11:06:57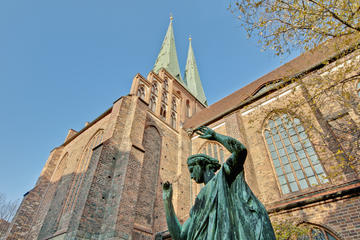 St Nicholas Church (Nikolaikirche)
Nikolaikirche, or St. Nicholas Church, is Berlin's oldest church and was completed in 1230. The basement floors are considered to be the oldest rooms in Berlin. The church played a significant role in Berlin's history. During the Reformation, it was the site of the first Protestant public worship service in the area when Elector Joachim II sided with Martin Luther's reforms. In 1809, the first elected city council for Berlin was sworn in at the church. In 1991, the first freely elected legislature for the newly unified city of Berlin held its first meeting in the church. 
The church has undergone several additions and restorations over the centuries. It was no longer used as a church starting in 1939, and it was destroyed in World War II. After extensive restoration, the church has functioned as a museum dedicated to Nikolaiviertel, the district surrounding the church, since 1987. Visitors can climb the tower for spectacular views of Berlin.
Practical Info
St. Nicholas Church is located at Nikolaikirchplatz.