St Peters Church
TIME : 2016/2/22 11:06:59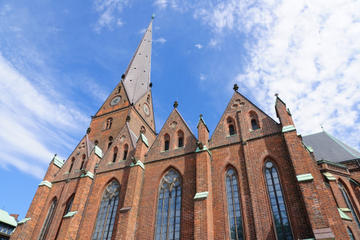 St Peter's Church
St Peter's Church is one of the five main churches in Hamburg that survived World War II. It is also the oldest remaining church in the city. Although the church has been expanded and rebuilt a few times, a church has been standing in this place since at least 1195. It is located at the highest point in Hamburg's old town. Today you can see the church's tower which stands at 433 feet tall and was rebuilt after the Great Fire of 1842. Visitors can climb 544 stairs to the top of the tower for one of the best views of Hamburg from above.
Inside the church you will find many works of art. A mural from 1460 depicts the first bishop Ansgar of Bremen with the words "Apostle of the North." Two oil paintings from the 17th century by Gottfried Libalt were returned to the cathedral in 2001 after being restored. A painting entitled Christmas 1813 in St. Peter's shows Hamburg citizens locked in the church when they refused to provide food to Napoleon's troops.
Practical Info
St. Peter's Church is located on the corner of Schmiedestrasse and Mönckebergstrasse. To get there, take the U3 to Rathaus and walk east about one block. The tower is open Monday to Saturday 11am to 5pm and Sunday 11:30am to 4pm.  
You Might Also Like