Town Hall (Rathaus)
TIME : 2016/2/22 11:07:01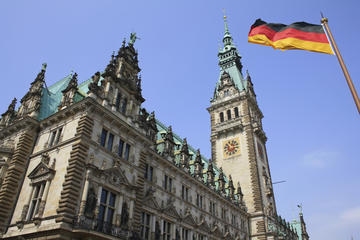 Town Hall (Rathaus)
Hamburg's town hall building, or Rathaus in German, was built from 1886 to 1887, and it is located in the Altstadt, or Old Town, in central Hamburg. It was built to replace the old town hall building that burned down in 1842. It was built with an ornate neo-renaissance facade and has 647 rooms. The front of the building features an imposing clock tower and 20 statues of emperors, and the entrance hall is supported by 16 sandstone pillars painted with 68 portraits of important Hamburg citizens. The building houses the city's senate and parliament.
Guided tours of the state rooms are available daily in both English and German, and last 40 minutes. Visitors will get the chance to see tapestries, glittering chandeliers, detailed ceilings, and grand portraits while learning about the history of the building and its importance to Hamburg.
Rathausmarkt, Hamburg's main market square, is in front of the town hall building. Festivals and events take place in this square throughout the year, including the city's biggest Christmas market. The Rathaus is also located near the Inner Alster Lake.
Practical Info
The town hall building is located at Rathausmarkt 1. To reach the Rathaus, take U-bahn line U3 to the Rathaus station. Tours are available from 10 a.m. to 3 p.m. Monday through Thursday, until 1 p.m. on Friday, until 5 p.m. on Saturday and until 4 p.m. on Sunday. Tickets cost 4 euros.