Villa Ampere
TIME : 2016/2/22 11:07:03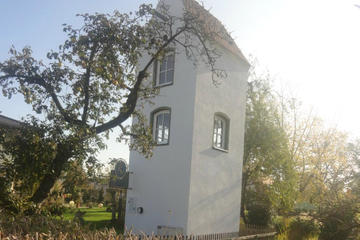 Villa Ampere
Villa Ampere was once an electrical transformer tower in Leipheim, Germany in western Bavaria. It was built in 1954 and used until 2013 when the electrical infrastructure in the area was upgraded. Originally it was slated to be torn down, but instead the family living next door decided to buy the tower and renovate it. Today it is a quiet retreat in a unique setting with no radio, TV, or telephone. Meetings, parties, and other small events can be held here. The room on the first floor can hold up to eight people, and the room on the second floor has a comfortable sofa bed. There is also a kitchen.
The rooms are about 10 feet by 10 feet, stacked on top of each other and connected by ladder-like staircases. The rooms feature several items from the original transformer tower, which now serve as decorations and light fixtures. The building still shows its typical 1950s German architectural style while providing an interesting example of how structures can be re-purposed instead of demolished.
Practical Info
Villa Ampere is located at Wissmannstrasse 9 in Leipheim. From the Leipheim train station, go south on Riedheimer Strasse, which turns into Herrenbreite, then go west on Wissmannstrasse.
You Might Also Like